About the Reserve
The Iški Morost Nature Reserve is home to many exceptional species: Eurasian curlews, welcoming the sunrise on a cold morning just like ancient troubadours; false ringlets, feeding on tormentils; enchanting yellow-spotted emeralds on hedges; and bashful corncrakes, hiding among the cottongrass in marshy grassland.
Wet grasslands, their only home, are a great rarity in present-day Europe. Our nature reserve on the Ljubljana Marshes is one of their last shelters.
Iški Morost lies in the southeast area of Ljubljana Marshes by the river Iška, north of the Brest village, and only five kilometres away from the outskirts of the city of Ljubljana. Its 63,5 hectares (157 acres) make the Reserve an important conservation area for endangered animal and plant species, especially those connected to the traditional agricultural cultural landscape of humid extensive grassland.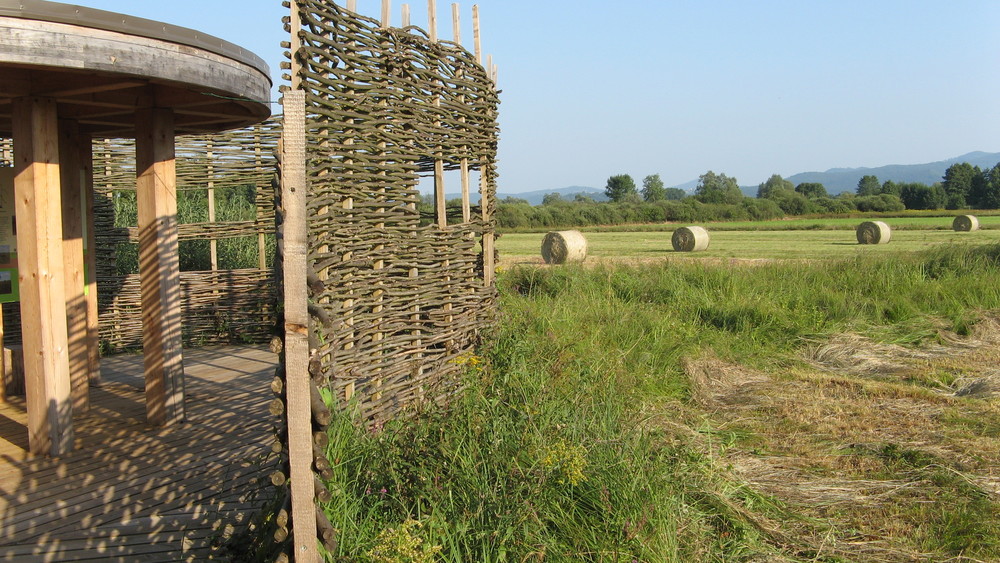 photo: Barbara Vidmar
What is special about Iški Morost?
Within the Reserve, some of the finest examples of damp marshy grasslands in the Ljubljana Marshes are preserved, as well as the largest connected area of the highly endangered grassland habitat type – the humid Molinietum grasslands.
In Slovenia, comparably large contiguous areas of this type of habitat are almost gone. Elsewhere, humid grasslands are often scattered among fields, intensive grassland, houses, roads etc., or are becoming overgrown due to abandonment. Such fragmentation does not allow for long-term survival of animals such as grassland birds who require larger areas for successful nesting.
Most of the other typical Ljubljana Marshes habitats can be also found in the reserve: different types of grasslands, hedges, tall-herb and tall-grass plant communities, sedge meadows, shrubs, flooded forests, and all transitional forms in between, which account for high species diversity. The importance of such a tessellated structure can be clearly seen in birds, since the reserve is home to more than half of Ljubljana Marshes nesters.